The autoflowering sector is snowballing within the world of cannabis cultivation – why? Autos are fast, efficient and easy-to-grow. What are the best autoflowering cannabis seeds?
This guide offers valuable insight for those wanting to try cultivating autoflowers and tips on how best to enjoy them. Whether you're already experienced or just starting with autos, look no further than here!
Short Summary
Autoflowering seeds offer rapid growth and simplified cultivation for growers of all skill levels.
Autoflowering plants require different care techniques to maximize their potential, including transplanting, soil & nutrient management, lighting, watering & humidity.
Popular autoflowering strains feature crosses between cannabis ruderalis and C. Sativa-, C. Indica. Each specific cultivar has its effects, including – energizing/relaxing as well as high yields/potency.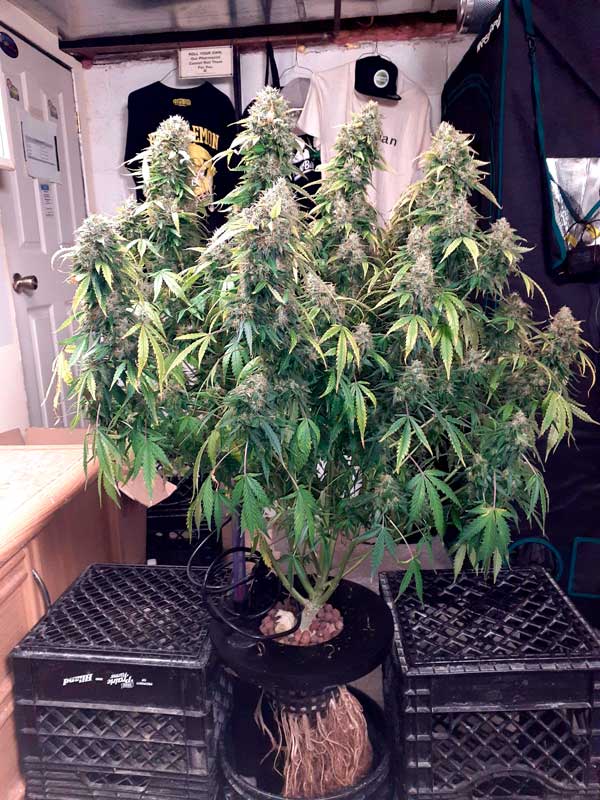 Quick Guide: The Rise and Benefits of Autoflowering Cannabis Seeds. In this photo: Alaskan Purple Auto – grow journal by Roberts
Understanding Autoflowering Seeds
Autoflowering cannabis strains are a breakthrough for growers. These seeds offer plants that flower automatically without changing the light cycle.
The benefits include quicker easy-to-grow plants and faster seed-to-harvest times, even for inexperienced growers, all brought by the best autoflowering cannabis strains.
Instead of needing a determined 12-hour day/night lighting schedule like traditional photoperiod strains need, autos begin flowering once they reach a particular maturity, usually after 3 or 4 weeks from germination.
Growers love them due to their fast production rate compared with other regular photoperiod cannabis species.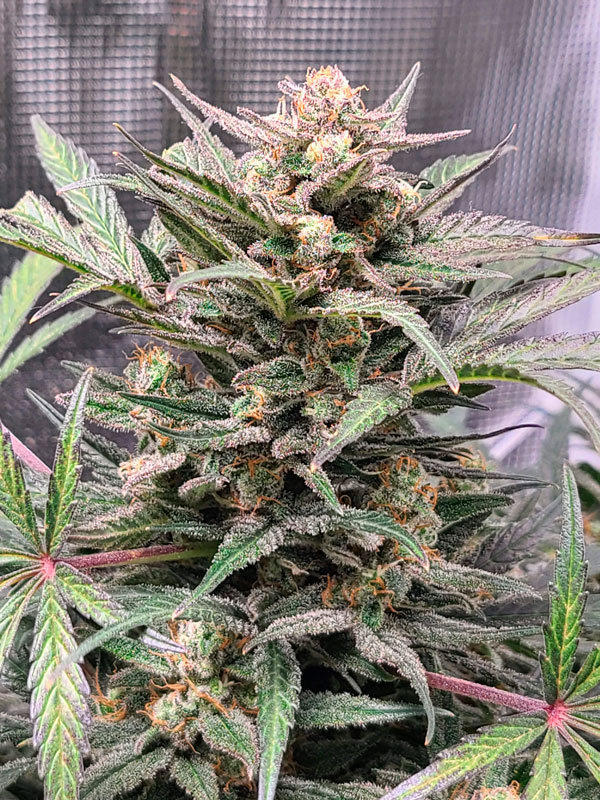 Autoflowering Seeds Explained: Why They're Changing the Cannabis Game. In this photo: Nothern Lights Auto_grow-journal-by-jacob-r
The Genetics Behind Autoflowering Seeds
Autoflowering plants are unique for their particular genetics, achieved through crossbreeding cannabis indica and C. Sativa plants with C. Ruderalis. This has resulted in strains that flower rapidly like the original C. Ruderalis came from areas with limited daylight hours and short summers.
The autoflower crosses also possess an abundant THC content typical of cannabis varieties and desirable effects similar to Sativas and Indicas.
For both indoor and greenhouse growers and outdoor growers alike, these autoflowering properties make them a popular choice when cultivating marijuana due to being versatile yet efficient in yielding results. Autos still need regular care tailored to each strain so you can reap its total rewards come harvest time. This is why understanding how autoflowers differ from common photoperiodic plants is essential to harvest heavy.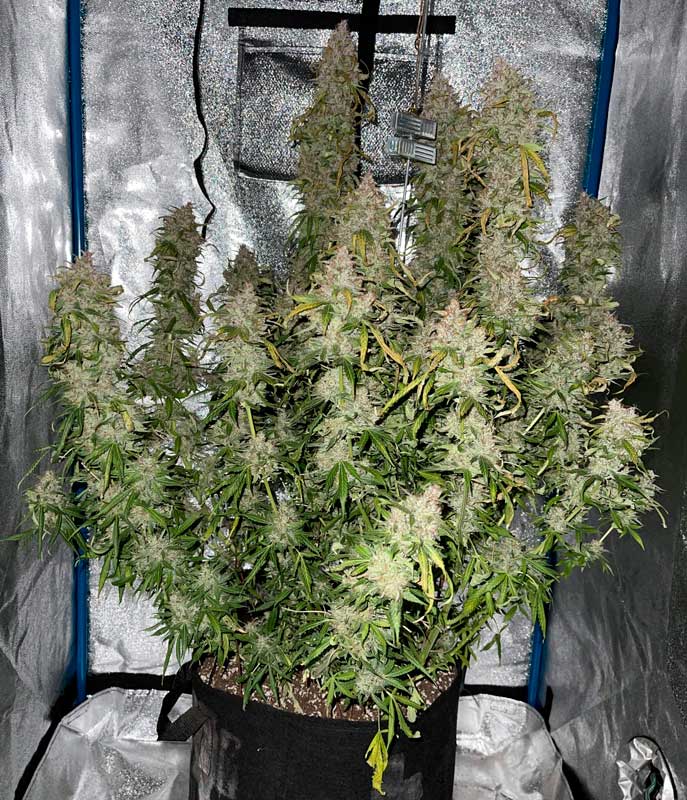 Diving Deep: The Unique Genetics of Autoflowering Cannabis. – In this photo: Zkittlez Auto_grow-journal-by-stormgrown
The Life Cycle of Autoflowering Plants
Autoflowering plants have a much faster life cycle than photoperiodic plants, with most completing their life cycle in 8-12 weeks, depending on the strain. They transition directly from vegetative to flowering phase, automatically, even with 18+ hours of light daily.
This makes them attractive for growers who want a quick turnaround from seed to harvest.
Growers need different techniques when taking care of autoflowerers compared to regular plants – topping and defoliation are usually not recommended due to the plant's rapid growth and short veg stage. Instead, opting for low-stress training methods that maximize lighting while encouraging lateral branching may be beneficial since this will allow optimal flowering in autos.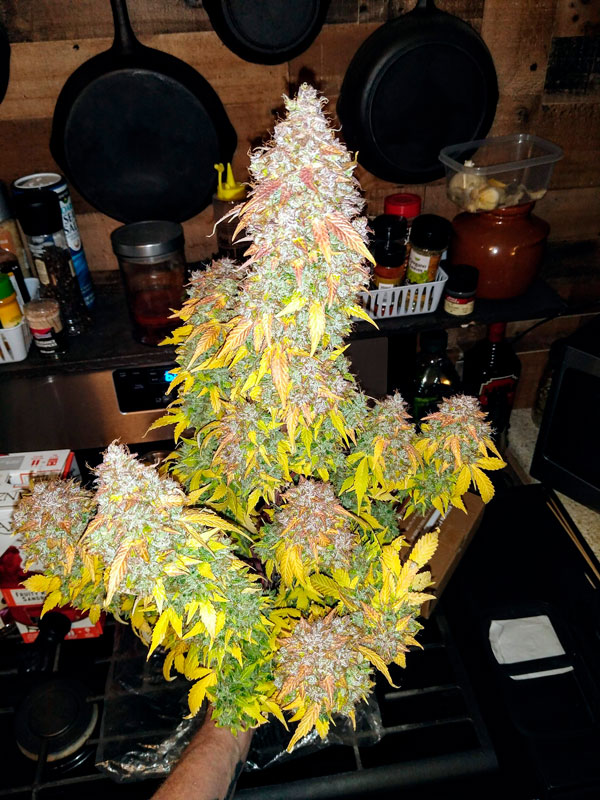 From Seed to Harvest: The Fast-Paced Life of Autoflowering Cannabis. In this photo: zkittlez-auto_grow-journal-by-shegrows
Advantages and Disadvantages of Growing Autoflowering Seeds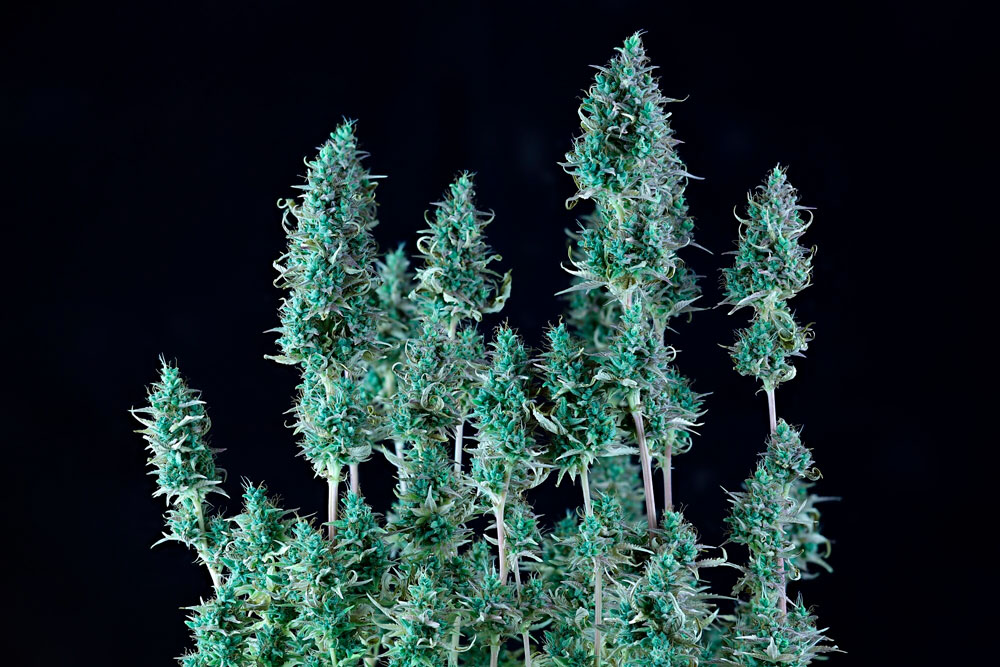 Weighing the Pros & Cons: Is Autoflowering Cannabis Right for You? In this photo: SMAN-ALPURP-AUTO-FEM-P. A cannabis plant in the vegetative growth stage
When it comes to cultivation, autoflowering strains offer some unique benefits over traditional photoperiod seeds. They have a fast growth cycle, potency levels are on par with most photoperiod plants, and yields have improved immensely.
In this article, we'll take an in-depth look at both the advantages and possible drawbacks of autoflowering marijuana varieties versus their standard counterparts so that growers can make an informed decision before getting started on any project.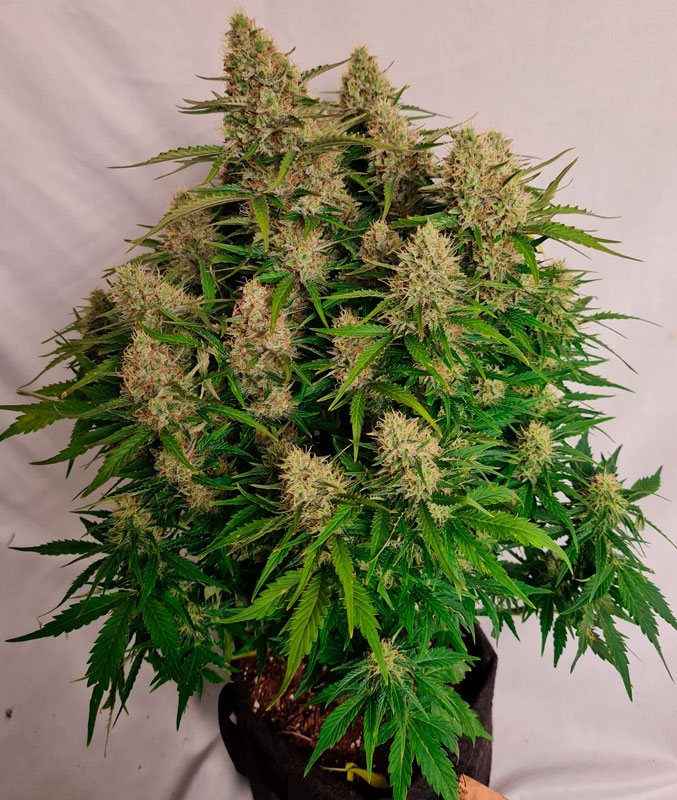 Why Autoflowering Seeds are the Fast-Track to Cannabis Cultivation Success. In this photo: Alaskan purple Auto_grow-journal-by-smoking-hills9
Speed and Efficiency – Cannabis Ruderalis
Autoflowering cannabis plants, which feature C. Ruderalis genetics that initiates flowering after three to six weeks of growth, are an attractive option for growers because they take a much shorter time from seed to harvest. Usually needing 75-90 days before being ready for harvesting, some strains can even mature earlier. These plants have become particularly advantageous as multiple harvests within one season or regions with fewer daylight hours can be achieved using autoflowers instead of regular marijuana varieties. I like to plant a few autoflowering seeds every week. This way, I can harvest a few plants every week. Manicuring, drying, and curing are much more manageable in small batches.
Ease of Cultivation
Autoflowering plants are perfect for novice cannabis growers and those with little experience in cultivation due to their formidable genetics. These resilient seeds prove capable of surviving environmental stressors, pests, and pathogens, increasing the chances of success when starting.
Growing autoflowers is easier because they don't grow as large as photoperiod plants, making them suitable for indoor settings or limited outdoor spaces where you can maximize yield by growing at a higher density.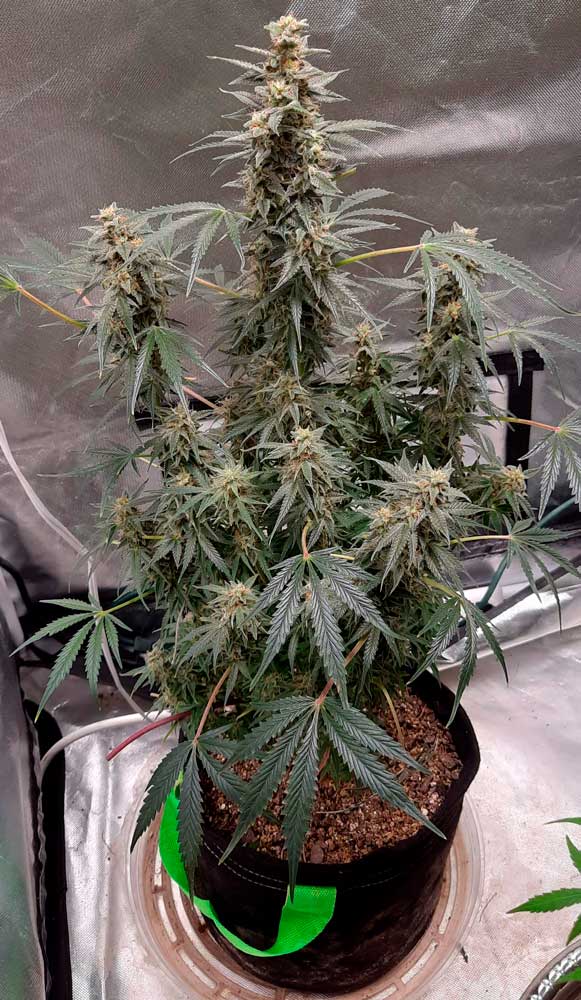 Beginner's Dream: The Simplicity of Growing Autoflowering Cannabis. In this photo: Green Crack Auto_grow-journal-by-kayotic 01
Yield and Potency
Autoflowering cannabis plants are now a highly productive crop. With yields of up to 5+ ounces (150+ grams) per plant, they are comparable in size and yield to photoperiod varieties. Regarding potency, autoflowers have been bred using indica and sativa strains that offer THC and CBD levels on par or even better than those found in regular cannabis cultivars. It's essential to choose the suitable autoflowering variety for your desired effect. Whether it be an energizing high or a more calming body-buzz – there is something for everyone!
Autoflower, cannabis seeds also possess greater flexibility when cultivating them as their natural cycle means you don't need many inputs like a timer to manage the light cycle, which simplifies the cultivation process for novice growers without compromising quality at harvest time.
Tips for Successfully Growing Autoflowering Seeds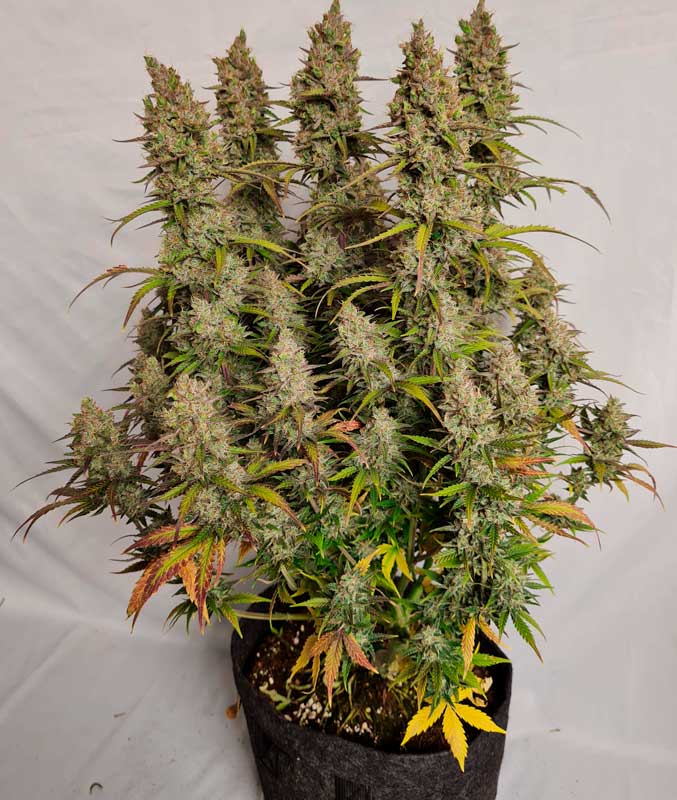 Mastering the Art: Expert Tips for Growing Autoflowering Cannabis. In this photo: WW Auto_grow-journal-by-smoking-hills9
Having reviewed the pros and cons of using autoflowering seeds, let's check some tips to ensure a successful harvest. Water, humidity levels, soil nutrients, and lighting are essential in cultivating these plants to produce high-quality crops.
In this part, we will give you expert advice on how best to care for your autoflowering plants, whether it is your first time growing. This section will give you more insight into optimizing conditions for optimum success when nurturing those precious girls!
Choosing the Right Soil and Nutrients
When cultivating autoflowering seeds, selecting suitable soil and nutrients is essential for optimal growth and high yields. The suggested pH for water/nutrient solution should be between 5.5 and 6.5, allowing autoflower cannabis plants to absorb nutrition efficiently and remain healthy.
To prevent overwatering, a well-aerated potting mix with added perlite best suits these plants. Due mainly to their size, they require lower levels of nourishment, so remember, when feeding your plant, adjust appropriately.
Usually, it begins around week 3 or 4 once flowers begin blooming. Alternatively, you may choose pre-fertilized mixes, which are much easier but can still provide the necessary sustenance that autoflowers need without too much effort involved from yourself.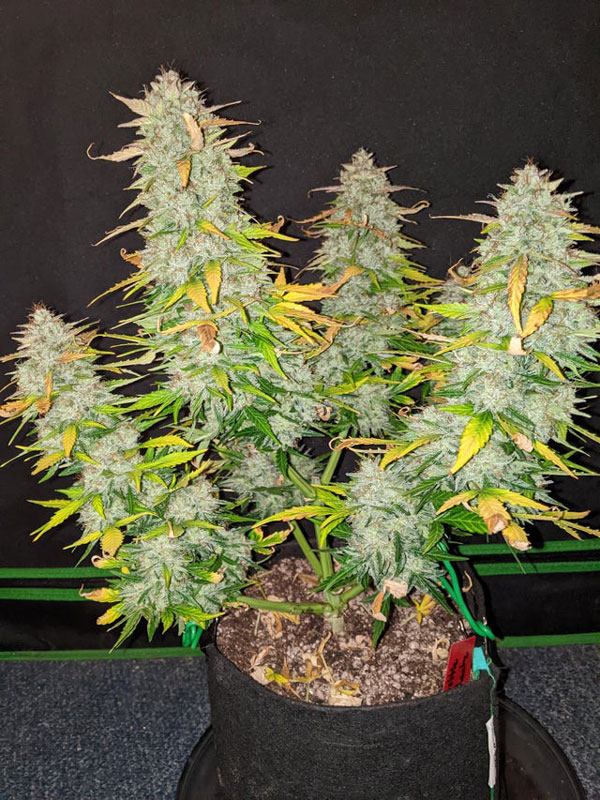 Feeding Your Plants Right: Soil & Nutrient Tips for Autoflowering Cannabis. In this photo: Lemon Auto by NocturnalEmission1 – reddit
Lighting Considerations
Autoflowering plants require the right amount of light to grow big fat flowers. Indoors, LEDs are the best source for lighting, as they provide a perfect range without releasing too much heat. The recommended photoperiod is 18-20 hours per day, so autoflowers can have enough exposure and stay strong. This practice will eventually guarantee maximum yield from these plants in an optimal way with minimal stress put upon them during growth cycles.
Watering and Humidity
Pay close attention to water and humidity levels when cultivating autoflowering plants. During the indoor flowering, each container should get 0.75-1.5 quarts/liters of water every 2-3 days, depending on the indoor pot size. I like to use a moisture meter to accurately check soil moisture because plants could need more or less water depending on growth factors. The optimal temperature range for autos is 72-76º degrees F (22-24º degrees C). The ideal humidity range during flowering is between 40-50%.
It is important to control water needs and the environment throughout flowering. A low humidity prevents mold formation and other issues, such as mildew or root rot, that would otherwise be detrimental to attaining strong, healthy harvests from your autoflowering plants.
Popular Autoflowering Cannabis seeds and Their Effects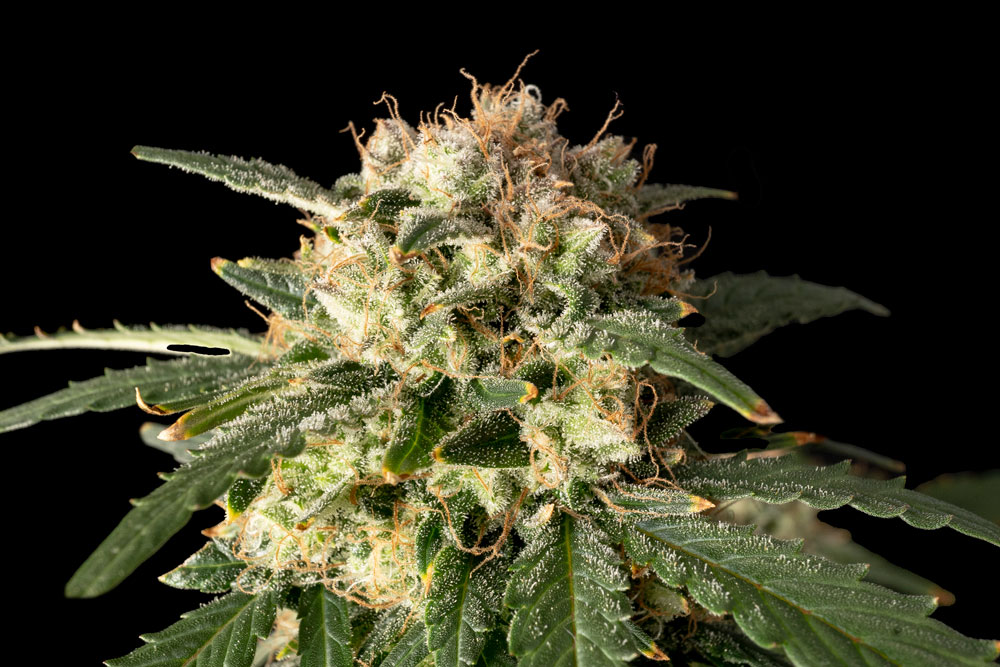 Seedsman's Lemon Auto
With autoflowering seeds becoming more popular, the variety of available strains is wide. Each autoflower strain also offers a unique experience. For you to make your decision about which autoflowering strain would be perfect for your needs, we are going to provide information on some popular options below.
A range of diverse effects can come from different types of autoflowering marijuana plants, so consider what kind suits you best before picking out specific strains. While there's no doubt a lot of choice when selecting these auto flower varieties, staying aware and knowledgeable will lead you toward making the right pick!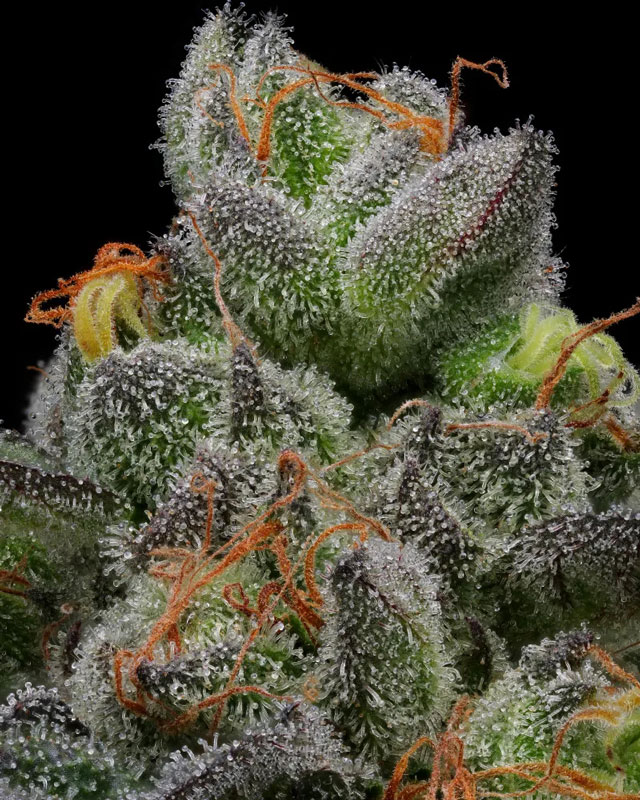 Exploring Sativa-Dominant Autoflowering Varieties. In this photo: Caramel-cream-auto – (HSC seeds)
Indica-Dominant Autoflowering Strains
Autoflowering predominantly indica-based strains provide users with a calming and soothing sensation, perfect for relieving stress or physical aches after a hectic day. With high THC levels and diverse terpenes for flavor and scent profiles, these plants offer an enjoyable experience regardless of taste preference. Notable autoflowering cultivars include Strawberry cheesecake, Northern lights, Juicy Skittles, Alaskan Purple, Lowryder, Kush, Haze Afghan, Cookies & Blueberry; each one has its specific effects to enjoy without sacrificing the strengths typically associated with Indica specimens thanks to their quick growth cycle capabilities. You can also refer to the WE GROW CANNABIS! free cannabis cultivation book for further information about beginner-friendly cannabis varieties.
Sativa-Dominant Autoflowering Strains
Autoflowering plants combine Sativa-dominant varieties' uplifting and energizing effects and rapid flowering capabilities through autoflowering genetics. This blend delivers an elevating mental high, perfect for daytime or socializing – depending on the specific variety, it enhances moods!
They have become popular in this category due to their fast-growing qualities: Green Crack, for example, has become a favorite among beginner growers trying to grow Sativas for the first time, as it's an easy-to-grow variety.
According to breeders, THC levels can reach up to 26%. Each strain offers different benefits, allowing users to tailor their cannabis experience depending on individual preferences.
The Best Indica-Dominant Autoflowering Strains. In this photo: pineapple-muffin-auto – (HSC seeds)
Balanced Hybrid Autoflowering Strains
Autoflowering strains provide an excellent option for those seeking an even-handed cannabis experience. These hybrids blend the energizing effects of sativa plants with the soothing qualities that indica ones offer, and usually consist of equal parts THC & CBD, meaning they can fit any preference or need.
Some popular balanced hybrid autoflowers are White Widow Autoflower, Blue Dream Autoflower and Northern Lights Autoflower. Each one providing its distinct taste as well as effects.
Not only do these specialised autos present all round advantages from both kinds of plants, but also benefit from faster growth rates due to their unique genetics derived from autoflower seeds.
Summary
For experienced cultivators as well as newcomers, autoflowering marijuana seeds have completely revolutionised the cannabis world by offering unique advantages and few difficulties. Autoflowers are known for their quick growth pattern, ease to grow, and many different results in effects, making them highly appealing and effective options when considering experimenting with new strains. By being familiar with how these plants work and using useful techniques discussed throughout this guidebook can benefit those interested in expanding into various auto-flower varieties. Whether they prefer a stimulating sativa dominant type or relaxing indica dominant kind or even hybrid mixtures, there is an array available that fits all needs perfectly! If you haven't already done so, why not start your own exploration today?
The Autoflowering Revolution: Why These Seeds are a Game-Changer for Cannabis Cultivation. – In this photo: EmeraldFireOG-auto – (HSC seeds)
Frequently Asked Questions
What are autoflowering seeds, and what are their benefits?
Short time to flower
Fast growth – 75-90-day seed to harvest
Just as potent as photoperiod cannabis plants
Guaranteed harvest date
Auto-flowering strains offer a great advantage to growers with regard to speed of growth. Unlike photoperiod varieties that require more maintenance, autos take less effort while producing excellent yields in just 10-12 weeks. This allows you to rapidly cycle through multiple growing sessions without compromising quality or results.
What is the difference between autoflowering cannabis seeds and photoperiod feminized seeds?
Autoflowering strains will flower automatically after about 21 days of growth, regardless of the light cycles. Autoflowering plants can be either regular (male or female) or feminized.
Photoperiod seeds require 12 hours of darkness and 12 hours of light to flower. You can control the flowering time with the light cycle. Photoperiod plants stay in the vegetative growth stage as long as they receive a 16-18-hour day and 8-6-hour night light schedule (photoperiod). Photoperiod plants can be either regular (male or female) or feminized.
Feminized seeds are 99+ percent female seeds. Feminized strains produce only female plants. Feminized plants can grow from "photoperiod" or "autoflowering" cannabis seeds.
All autoflowers have distinct traits compared to typical other cannabis strains : faster-growing and earlier blooming times; the rapid transformation from vegetative growth to flowering with no changes in light cycle length.
Are seeds from Autoflowers good?
Autoflowering seeds are an excellent option for growers, given their impressive features. These seeds need little care and maintenance, making them convenient to cultivate. They won't demand any special light conditions as well. The cannabis plants produced with these kinds of seeds offer exceptional potency while blooming briefly compared to other male plant varieties.
It is clear that using autoflowers will bring outstanding results for those seeking quality marijuana plants or even just some herbs and flowers!
Are autoflowering cannabis seeds better than photoperiod?
Ultimately, both types of seeds – autoflower and photoperiod – have their advantages and drawbacks. Autoflowering might be your best bet if you are a gardening novice. Remember, both autoflowering and photoperiod seeds can be feminized. If large yields and potency matter most to you, then feminized seeds will likely give better results.
To sum up this comparison between autoflowering and photoperiod varieties (while they each offer different benefits for gardeners with varying levels of experience), those looking for a short crop that is easy-to-grow, plant auto-flower seeds. Plant photoperiod seeds if you want big plants that grow for a long time.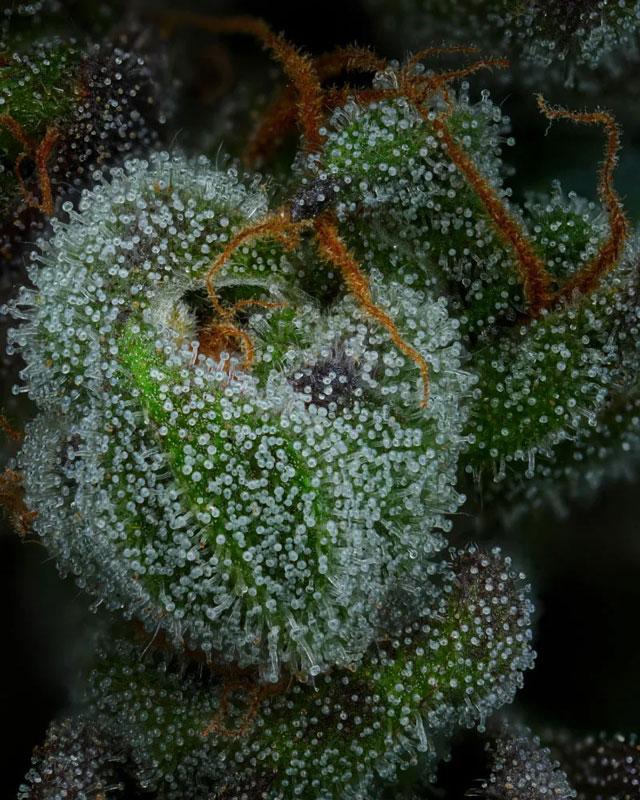 In this photo: trichomes of an All Gas Auto