Imagine the satisfaction of cultivating your cannabis plants and enjoying the fruits of your labor. Growing cannabis at home has become increasingly popular, and with the proper knowledge, anyone can buy cannabis seeds online and become a successful grower.
We'll cover everything you need to know about buying cannabis seeds online in this thorough guide, from the many sorts of marijuana seeds and strains/cultivars to selecting a reputable online seed bank and understanding local restrictions. You'll be well on your way to starting your Cannabis garden by the end of this guide.
Short Summary
Understand the differences between feminized, autoflowering and regular cannabis seeds.
Consider strain characteristics such as THC/CBD content & climate/space considerations when selecting a variety.
Research legal requirements and follow practical tips for successful germination, growing, harvesting & curing of buds.
Types of Cannabis Seeds: Exploring Your Options
The seeds on the left are still immature and the dark ones on the right are ready to germinate.
Regarding cannabis seeds, though, there are three main varieties: regular, feminized, and autoflowering. Each type of seed has its unique advantages and disadvantages, so understanding the differences between them is crucial for selecting the perfect weed seeds for your garden.
Feminized Seeds
Feminized cannabis seeds are specifically bred to produce female plants, which are the ones that generate the cannabinoid-rich buds that most growers and consumers desire. With feminized cannabis seeds, you can expect to yield almost 100% female plants, eliminating the need to worry about removing male plants that don't produce viable flower buds and can pollinate your females, turning them into seed producers rather than bud producers.
Skunk 1 Feminized – Feminized Seeds Explained: Why feminized cannabis seeds are the top choice for cannabinoid-rich bud production.
To ensure optimal cultivation of feminized cannabis seeds throughout, it's essential to review the cultivar datasheet, suggested nutrient and cultivation strategy for the specific feminized seeds, and adjust humidity according to the plant's stage of development. You must also consider the difference between Indica and Sativa and comprehend the distinction between THC and CBD content.
Also, consider your climate and growing space. If using natural sunlight, plant in early spring and find information on hours of light per day outdoors to understand photoperiod. Find grow diaries and information online from other growers to understand how to provide the whole plant with the correct balance of macronutrients and micronutrients.
Autoflowering Seeds
Autoflowering marijuana seeds are a game-changer for novice pot growers and those with limited space or unfavorable climates. These marijuana seeds come from strains that automatically switch from the vegetative stage to the flowering stage without changing the light cycle, making them much easier to grow than photoperiod varieties. This means that regardless of the environment, growers of autoflowering cannabis seeds can yield exceptional results.
Seedsman Northern Lights Auto – The game-changer for novice growers and those with limited space.
When selecting cannabis seeds based on flowering time, it's essential to consider your preferences and needs. Varieties of cannabis seeds with longer flowering times usually offer more potent flavors and effects. In comparison, those seeds with shorter flowering times are better suited for outdoor quick and discreet growing operations.
Be sure to check the data sheets provided by seed banks, which offer details about the entire life cycle for each autoflowering variety in weeks.
Regular Cannabis Seeds
Regular cannabis seeds, are the result of natural breeding, meaning they can produce both male and female plants. While this may not be ideal for most growers, regular cannabis seeds have advantages, such as being considerably more vigorous and generally more stable than feminized cannabis seeds.
Choosing Your Strain: Navigate the vast world of cannabis strains for the ideal garden experience.
Suppose you're interested in breeding your cannabis strains. Regular pot seeds are an excellent choice in that case, as they offer a more comprehensive genetic pool. However, remember that with traditional marijuana seeds, you'll need to be diligent in identifying and removing male plants to prevent pollination of your female plants, which can drastically reduce the yield of cannabinoid-rich buds.
Choosing the Weed Seeds for You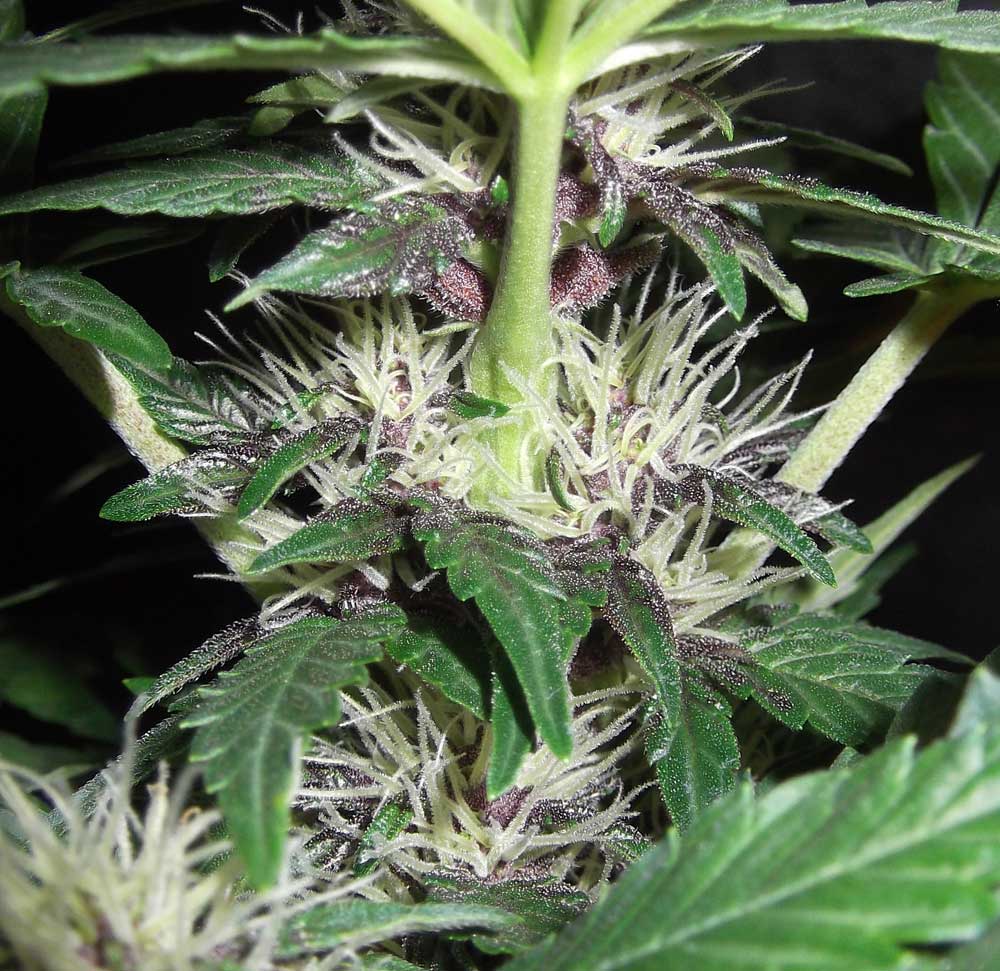 Regular Seeds: Dive into the natural world of regular cannabis seeds and their unique advantages.
Selecting the ideal cannabis strain for growing marijuana in your garden involves considering various factors such as flavor, effects, potency, medical benefits, climate, and growing space.
With a vast array of strains to choose from, understanding the nuances of each type can help you make an informed decision and ultimately cultivate a thriving cannabis garden.
Indica, Sativa, or Hybrid?
Indica Hash – a close-up of this interesting cannabis cultivar.
Indica and sativa strains are the two primary types of cannabis, that affect the morphology of the plant. Indica plants are typically bushier and more compact, with broader leaflets, making them better suited to smaller spaces. On the other hand, Sativa varieties exhibit taller growth thinner leaflets and are more suitable for outdoor cultivation. Hybrids possess a combination of sativa and indica genetics in varying proportions, which can lead to a range of morphological differences and effects depending on the cultivar.
A Mexican Sativa from regular seeds
When evaluating marijuana seeds based on their effects, perusing the product description and datasheet provided by the seed bank is crucial. This information will help you decide whether a particular strain is more indica-dominant, sativa-dominant, or a balanced hybrid, and whether it suits your preferences and needs.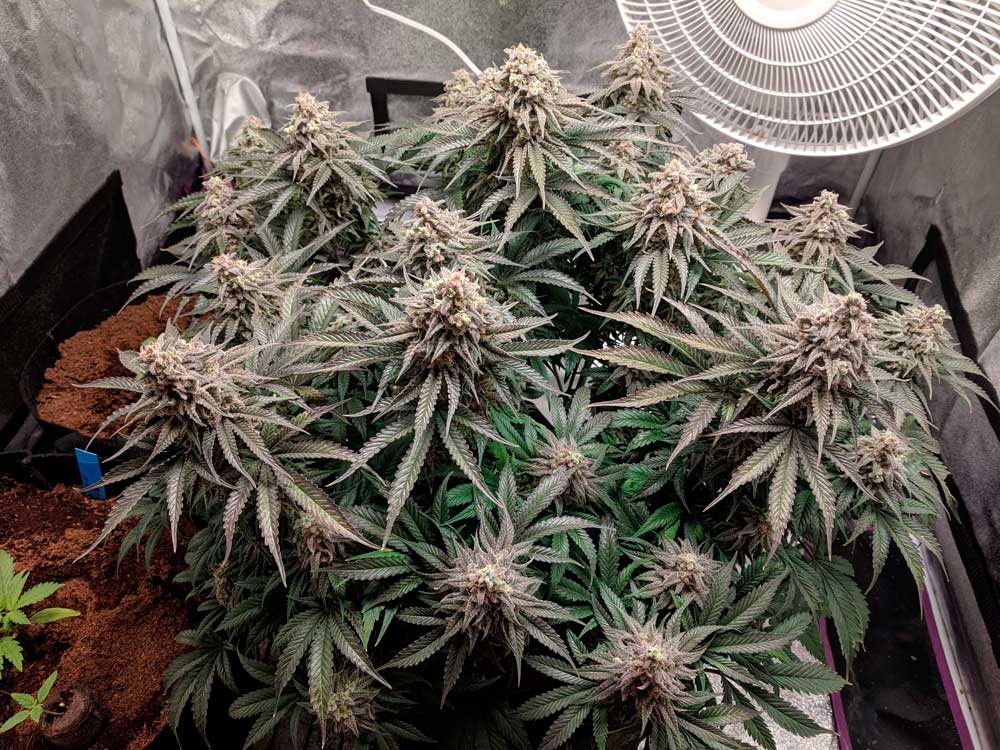 A Jack Herer from the grow journal of Ngckush-GD
THC vs CBD Content
The two primary cannabinoids found in most cannabis are THC and CBD. THC is responsible for the plant's psychoactive effects, while CBD is known for its potential therapeutic benefits and subtler, clear-headed effects. When selecting a strain, consider whether you prefer more potent, THC-dominant, or CBD-rich seeds, which may relieve various ailments without the intense high associated with THC.
CBD rich cultivars: Purple Kush Auto CBD 1:1
Seed banks like Seedsman Seeds offer a variety of strains of regular cannabis seeds, ranging from high-THC varieties to those rich in CBD, catering to a wide array of preferences and needs. It's essential to research and understand the cannabinoid content of most cannabis seeds and the strains you're interested in before purchasing cannabis seeds, as this will ultimately impact the effects and benefits you'll experience from the plant.
Climate and Growing Space Considerations
The environmental condition and the available growing area are essential factors in determining the success and productivity of your cannabis growth. Depending on your location or city, some photoperiod strains may be better adapted to your climate than others. Outdoors, indica-dominant photoperiod plants are preferred for cooler and shorter growing seasons. Higher sativa-dominant photoperiod plants require areas with a longer growing season. Remember that photoperiod plants must be started in a specific month of the year if natural sunlight is used, whereas autoflowering strains can be germinated in any month of the year as long as optimal climate conditions are maintained.
Paradise Seeds Automaria II
Additionally, if you're cultivating cannabis in an area prone to mold and pest infestations, be sure to look for strains labeled as "mold-resistant" and "pest-resistant." These strains have been specifically bred to withstand such challenges, increasing the yield and likelihood of a successful harvest.
Trusted Online Seed Banks: Where to Buy Quality Cannabis Seeds
Purchasing cannabis and hemp seeds online can be daunting, especially for first-time buyers. With many seed banks claiming to offer the best quality weed seeds and services, how do you know which one to trust to buy cannabis seeds?
In the following sections, we'll discuss the importance of buying from trusted online seed banks. Buy pot seeds online from reputable seed banks that offer quality cannabis seeds, secure payment options, discreet shipping, and reliable customer service.
Evaluating Seed Banks
When assessing an online seed bank, it's vital to consider buying original genetics of marijuana seeds. Look for reliable seedbanks that offer guarantees, exclusive deals, strain variety, and customer service. A reputable seed bank should provide reliable delivery and germination assurances, ensuring that you receive high-quality marijuana seeds that will produce healthy plants.
Additionally, it's essential to research customer reviews and note any discounts or promotions the seed bank may offer. These factors can help you gauge the overall quality and trustworthiness of the seed bank, ultimately leading you to make an informed decision when purchasing cannabis seeds online.
Seed Bank Recommendation
Seedsman Seeds was founded in 2002 and provides secure payment choices and discrete delivery services to ensure your weed seeds reach safely and securely.
Because each seed bank has advantages and disadvantages, growers must do their homework and compare them before purchasing. Seedsman has a long history of respecting breeders and offering only their original seeds.
Growers can confidently obtain high-quality cannabis plants and seeds using a reputable online seed bank.
Tips for Successful Cannabis Cultivation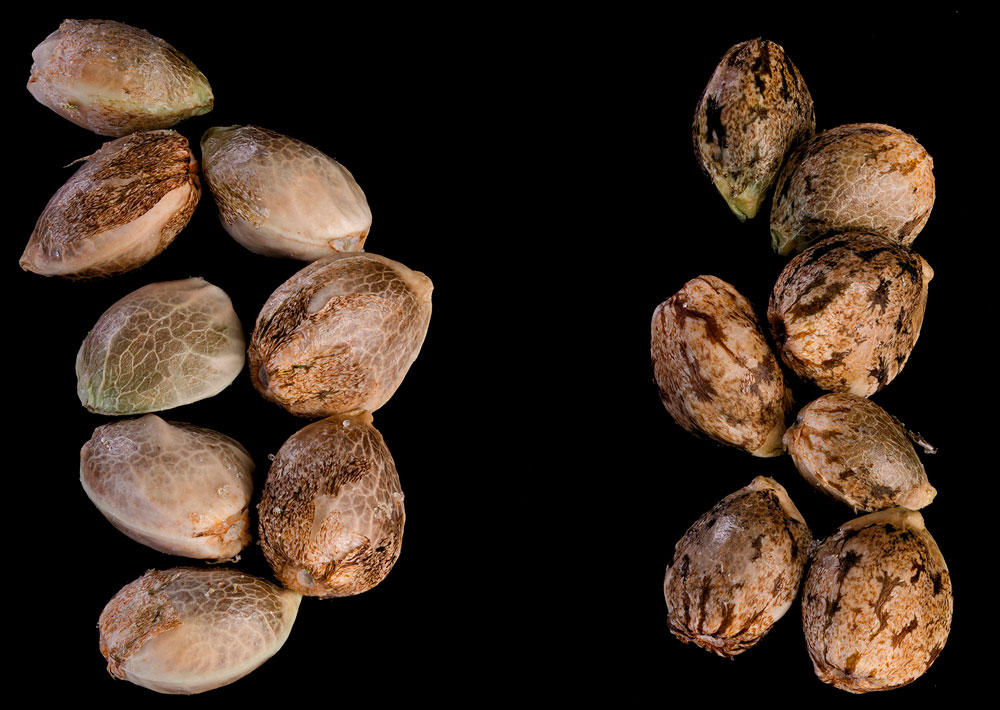 Cannabis seeds may be light beige or have mottled spots. They all look a little different.
Now that you better understand the different types of cannabis seeds, strains, and seed banks, it's time to dive into some practical tips for successful cannabis cultivation.
In the following sections, we'll cover essential aspects of the growing process, including germinating your seeds, indoor vs. outdoor growing, and harvesting and curing your buds extra seeds.
Germinating Your Seeds
Germinating cannabis seeds is the first critical step in the cultivation process. The most effective method for germinating cannabis seeds is to soak them in distilled water for up to 32 hours, with the environment kept at a temperature range of 70-78°F or 21-25ºC. Alternatively, the popular wet kitchen towel method can also be used, where cannabis seeds are placed on a damp paper towel and kept in a consistently humid environment.
Germination 101: Kickstart your cultivation with effective seed germination methods.
Once your seeds have germinated, it's essential to transplant the germinated seedlings into your garden pot or container if they were not sown in their desired location. Ensure the plant's roots fit into the pot or container, and lightly mist the soil surrounding the germinate roots to help establish a strong root system.
Indoor vs Outdoor Growing
Choosing indoor and outdoor cultivation depends on your available space, climate, and personal preferences. Indoor growing offers greater environmental control, including temperature, humidity, and light, resulting in denser, more potent buds and flavor alone. On the other hand, outdoor flower cultivation is more economical and straightforward, with the sun's natural light spectrum producing more cannabinoids and terpenes for enhanced flavor and potency.
When deciding between indoor and outdoor cultivation, consider factors such as the size of the space, type of lighting, temperature and humidity levels for indoor growing, and the climate, amount of sunlight, and soil type for outdoor growing. By understanding the benefits and drawbacks of each method, you can choose the best approach for your cannabis cultivation journey.
Harvesting and Curing Your Buds
Indoor vs. Outdoor Growing: Weigh the pros and cons to decide the best cultivation method for you.
Properly harvesting and curing your cannabis buds indoors is essential for maximizing their flavor, potency, and overall quality. The most effective method for harvesting and curing cannabis buds indoors is to suspend them upside down from a string or wire in a well-ventilated area with consistent temperature and humidity. This allows the buds to dry evenly and prevents the formation of mold and mildew.
Harvesting and Curing: Maximize flavor and potency with the right harvesting and curing techniques.
Temperature and humidity control plays a crucial role in the drying and curing process. Excess humidity can lead to mold and mildew formation, while too little humidity can cause the buds to dry out too rapidly. Aim for a moisture content of 8% to 11% for adequately dried and cured cannabis buds, and consider using glass jars or totes to maintain the ideal moisture content and prevent the buds from drying too quickly.
Legal Considerations: Understanding Cannabis Cultivation Laws
Every country and state has specific medical and recreational cannabis cultivation laws.
Before purchasing cannabis seeds online and embarking on your cultivation journey, it's crucial to understand the legal implications of growing cannabis in your local area. Legal considerations can vary significantly from country to country, so researching and familiarizing yourself with local laws is essential to ensure compliance and avoid potential legal issues.
Some jurisdictions may impose restrictions on cannabis cultivation, such as limiting the number of plants an individual can grow or requiring specific permits or licenses for growers to buy cannabis seeds. When purchasing cannabis seeds online, growers need to consider stealth shipping if the parcel is possibly inspected by local customs and obtaining marijuana seeds only from reputable online seed banks that offer discreet shipping and secure payment options.
Summary
In conclusion, cultivating your cannabis plants can be an enriching and fulfilling endeavor. By understanding the different types of weed seeds, selecting the right strain for your preferences and growing conditions, and buying cannabis seeds from a trusted online seed bank, you'll be well on your way to the perfect cannabis seeds and a successful harvest.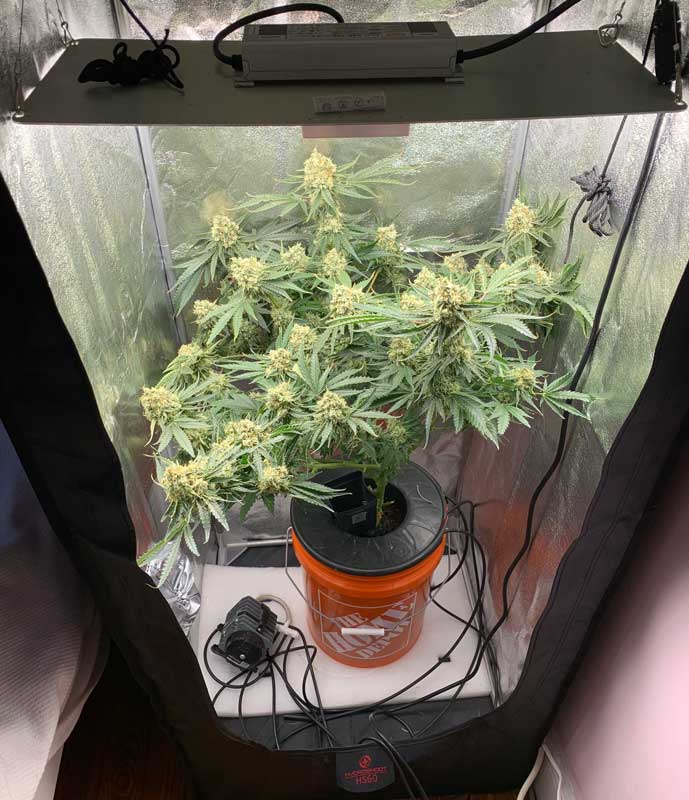 Mac Grow Closet – cannabis plant in small grow tent
Remember to consider factors such as germination methods, indoor vs. outdoor growing, proper harvesting and curing techniques, and legal implications when embarking on your cannabis cultivation journey. With careful planning, dedication, and patience, you'll soon be enjoying the fruits of your labor and experiencing the satisfaction of growing your cannabis garden.
Join our community of cannabis growers by signing up for our email newsletter!